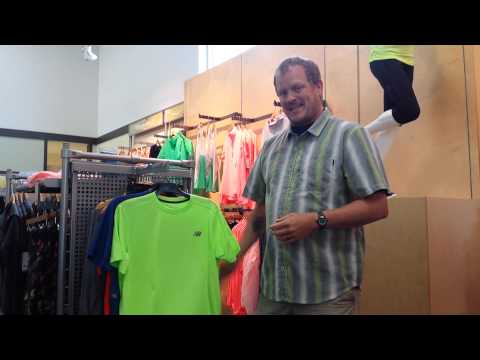 Congratulations! You survived your first week of run camp! Now that we're in week two, let's talk about apparel and unexpected items that you may need for the remainder of run camp.
To start us off, technical apparel offers many benefits that cotton tees and shorts cannot. Tech apparel is designed to be lightweight, moisture-wicking and comfortable. It will keep you warmer on cold days and cooler on hot days. At Gazelle Sports, we like to think about technical apparel in terms of layering. Depending on the conditions and your own needs, you can combine layers as needed. The first layer is the base layer, which is designed to keep the skin dry by moving moisture away from your skin. We recommend a synthetic material for this reason. The second layer is known as the thermal layer. When temperatures are low, this layer keeps you warm by wicking moisture and trapping heat. Once again, we recommend a synthetic material. The third and final layer is known as the shell or outer layer. Shells are designed to protect you against the elements, like wind and water. A good shell will allow moisture to escape, but trap in body heat. We can help you decide what combination will work best for you needs. Bottom line: once you start wearing what we call "technical apparel," you'll never want to go back to cotton!
Alright folks, let's talk about chafing next. If you've ever experienced this type of discomfort, you know that you want  to avoid it at all costs. Luckily, there's Body Glide, aka your new best friend. We recommend using Body Glide on areas such as your bra band, your feet, the inside of your thighs, etc. The more you run, the more you learn about potential problem areas. Thankfully, this non-oily and non-messy anti-chafe stick will help keep any problem areas chafe- and blister-free during your run.
Next, do you ever wish you had more pockets while running? A race belt is a great tool for race day and training runs. It's lightweight, so you'll hardly even notice it, and it stays in place without bouncing around while you run. A small expandable pocket can easily hold a cell phone, ID or car keys. Bonus: come race day, you can pin your bib to it and avoid poking holes in your nice tech shirt!
Lastly, let's talk safety. Any time you're running at night, in low-light situations or on busy streets, being seen means staying safe! Options like brightly colored reflective gear and blinking lights will help you be visible to others. Other great safety tips include: avoid using headphones, carry your ID (or Road ID), run against traffic (if running in the road), look both ways before crossing streets and stick together.
Keep Moving!