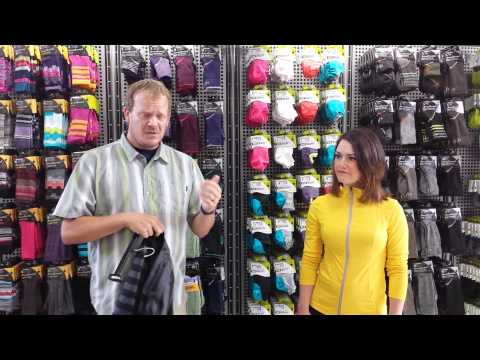 Congratulations, you survived your first week of run camp! Now that we've gotten to know you a little bit, let's talk about socks, underwear, bras and chafing. These seemingly small things can make a big difference in your training this season!
First off, let's talk socks. Why socks? The anatomy and functions of the foot are more complex than we generally assume. Our feet are put to the test daily as we walk, run and pursue recreational activities, with little regard for what we put next to our skin. Socks play an important role in foot comfort. If you have not done so already, ditch the cotton socks! Cotton can hold up to four times its weight in moisture, which can make for a very uncomfortable run. Try synthetic or wool socks, which will pull moisture away from your feet. This will keep your feet dry and blister-free!
Second, let's talk undies. Underwear is important because it is closest to your skin, and is the first line of defense against chafing and moisture in summer and winter. If you're a guy, you should consider a pair of wind briefs for winter training. Wind briefs can mean the difference between a comfortable run and a very painful run.
The third topic we'll discuss this week is sports bras. Listen up, ladies! Besides a great pair of running shoes, a good sports bra is the best running investment you can make. Here are some things to consider when choosing your next sports bra:
1. Over 60 percent of women wear the wrong size bra. A simple solution – get fitted! A properly fitting sports bra will not only be comfortable, but can also protect the elasticity and ligaments in breast tissue.
2. A woman's bra size fluctuates due to weight gain or loss, pregnancy, age or wearing a bra with inadequate support. If you've recently gone through any of these changes, get re-fitted.
3. Not all sports bras are designed for every activity. Generally, the higher the activity's impact, the more snug the bra needs to be.
4. A good sports bra will also wick moisture and reduce chafing.
5. The lifespan of a sports bra is anywhere from 6-12 months, depending on how well it is cared for. To help your sports bras last longer, we suggest either hand washing or washing in the delicate cycle with a sports wash (a laundry detergent such as Sweat X that is specially formulated for technical apparel). Always line dry your sports bras as dryers can drastically speed up the "wearing out" process, especially if the bra has an underwire.
Bottom line: Do yourself (and your girls) a favor and get the support you need!
Lastly, we need to talk about chafing. If you've ever experienced this type of discomfort, you know to avoid it at all costs. Luckily, there's Body Glide, aka your new best friend. We recommend using Body Glide on areas such as your bra band, your feet, the inside of your thighs, etc. The more you run, the more you learn about potential problem areas. Thankfully, this non-oily and non-messy anti-chafe stick will help keep any problem areas chafe- and blister-free during your run.
Keep Moving!