Guest Post from Marisa from Bring Out Your Bliss, Food Blogger & Recipe Developer from Grand Rapids focusing on real food.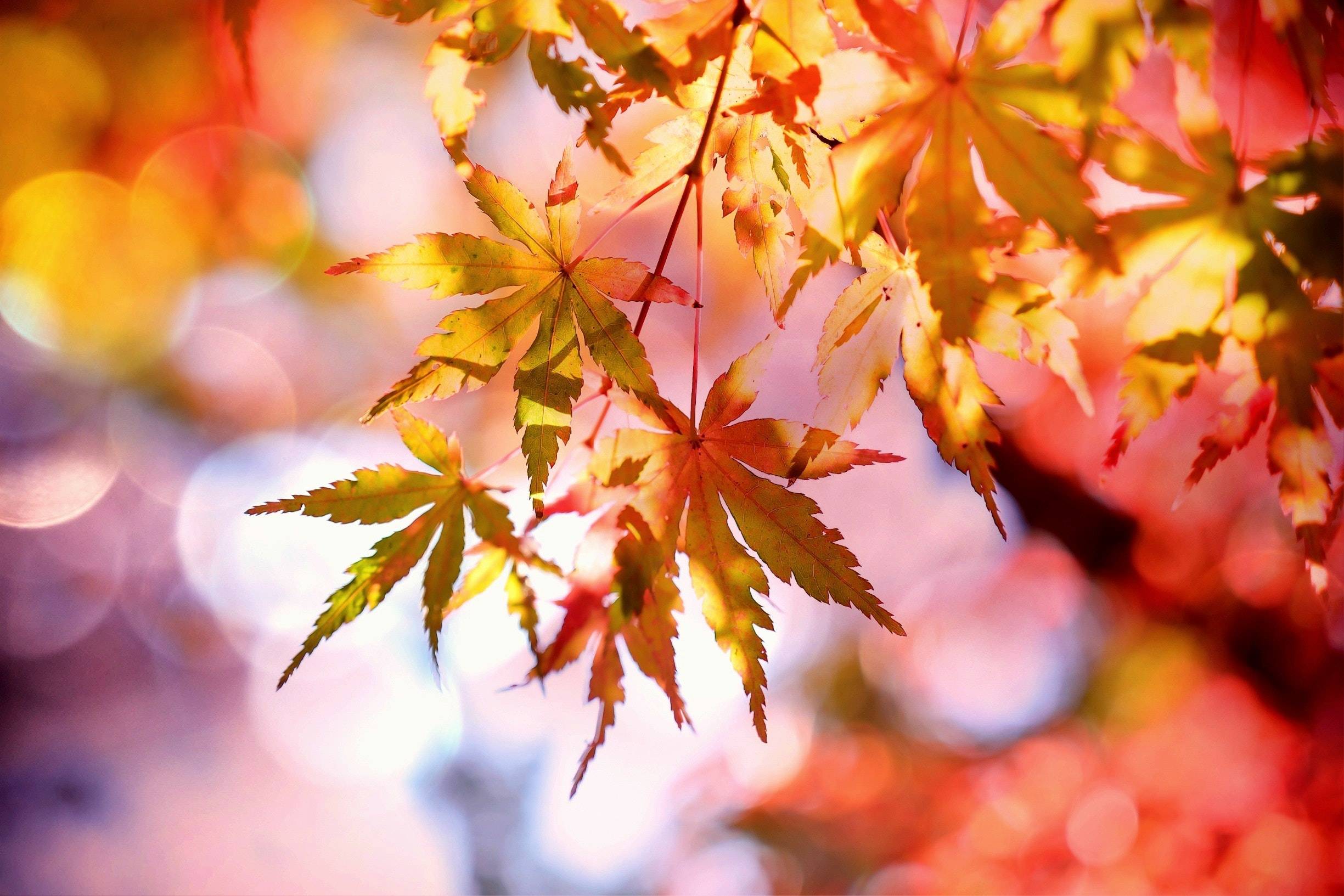 The leaves don't have to be the only thing that get a makeover this autumn! Upgrade your lunch with these delicious, easy, and nutritious meals! I'm a big fan of meal prepping over the weekend, but these can all be made the night before and eaten as leftovers the next day.
---
Glow Get It
Autumn Salad with Creamy Cinnamon Dressing
Serves 1
Ingredients

For the Salad
2 cups organic arugula

1 small sweet potato (cubed and roasted)

1/2 small organic honey crisp or gala apple (chopped into bite sized pieces)

1/4 cup crunchy chickpeas

2 Tbsp. crumbled goat cheese
For the Dressing (with some for later!)
1/3 cup tahini

juice from one small lemon

1 Tbsp. pure maple syrup

1 tsp. cinnamon

1/2 tsp. cardamom

pinch of pink salt

1/8-1/4 cup water to thin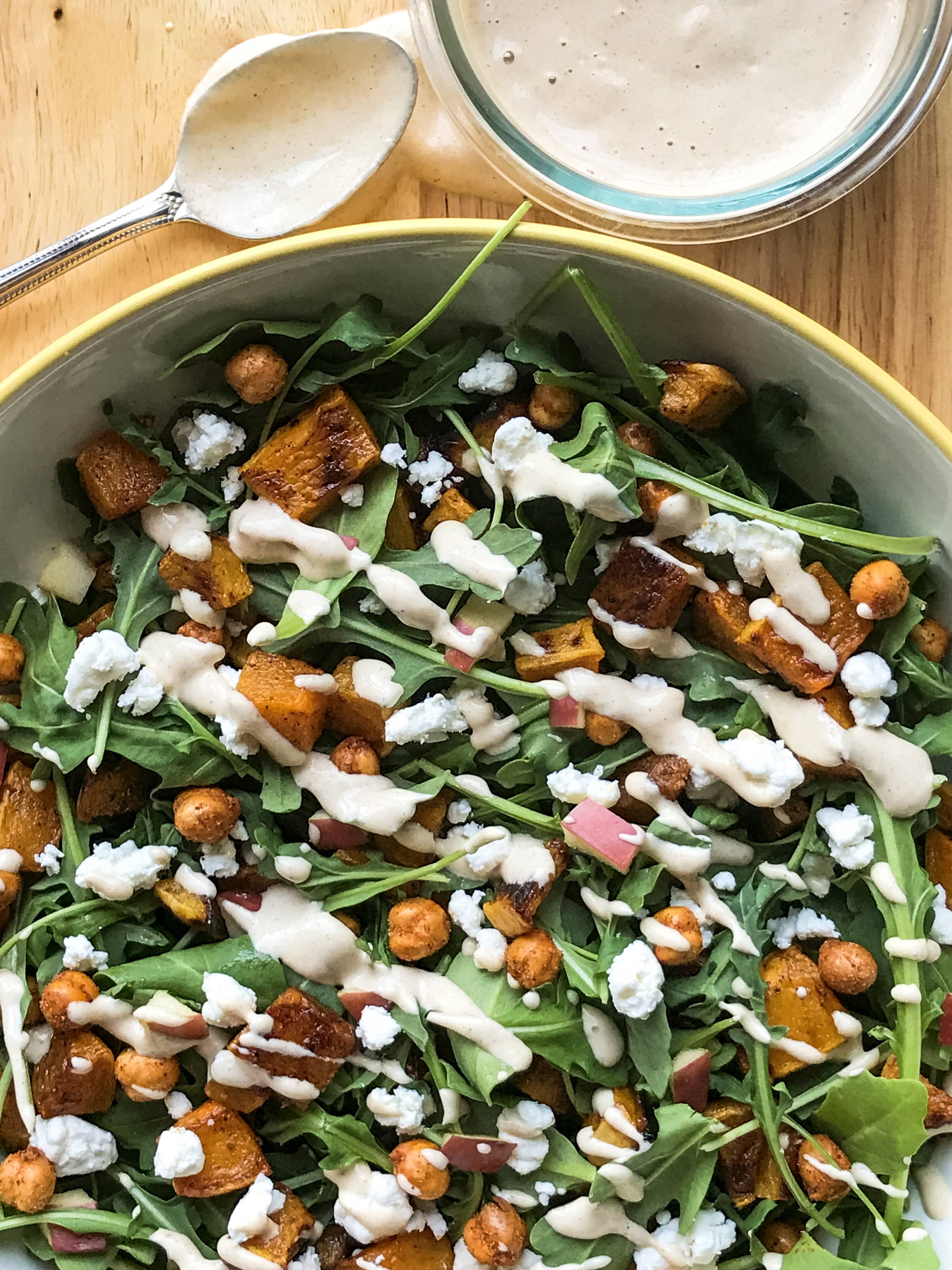 Instructions:

For the dressing: place all dressing ingredients in a small blender and blend until smooth. Start with 1/8 cup water and slowly increase as need be. Store dressing in airtight container until ready to dress salad. Dressing is good for up to five days in fridge.
Tip: For a little extra protein, top salad with grilled chicken or enjoy with a side cup of warm bone broth.
---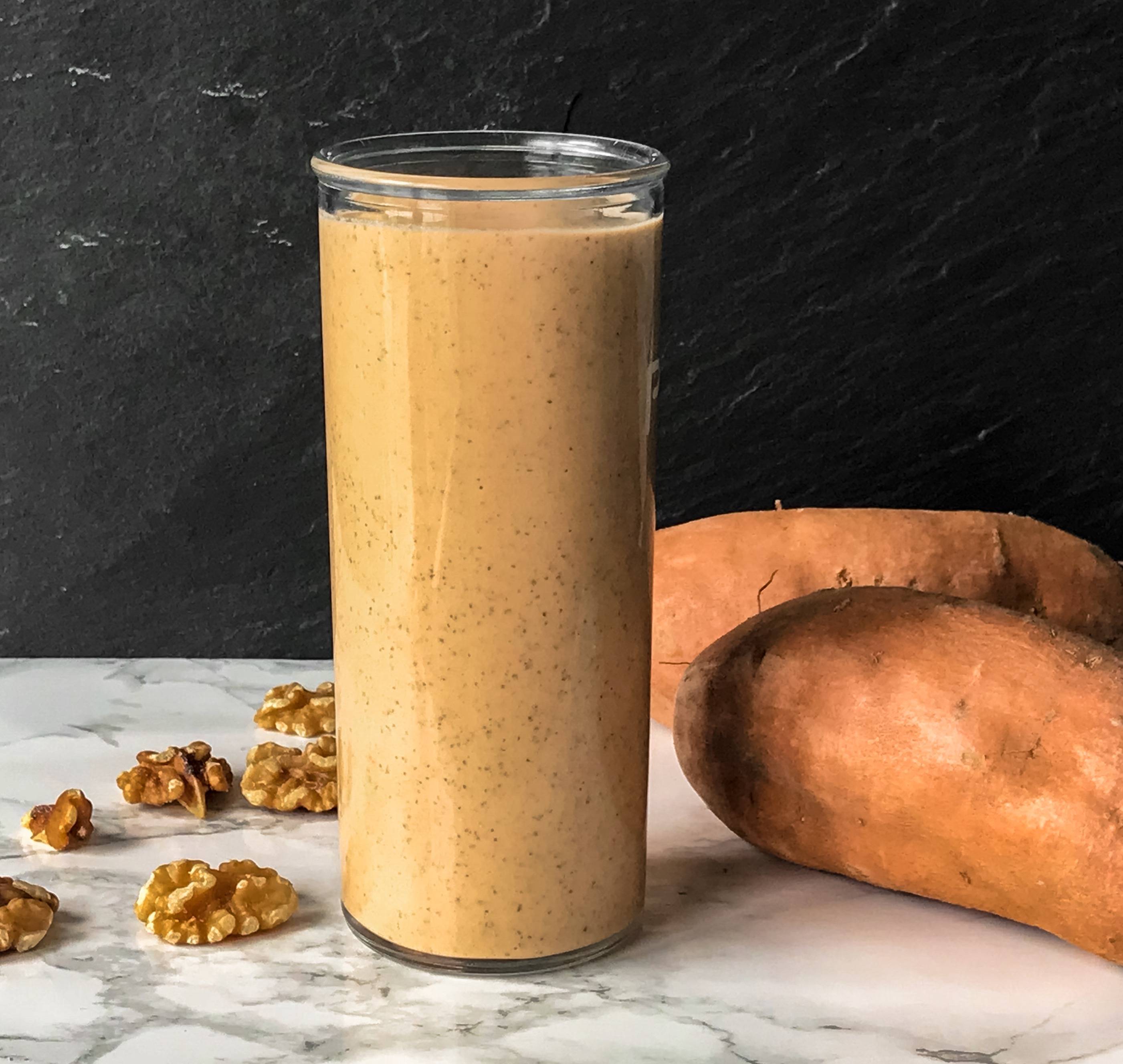 I "Yam" in Love with Fall Protein Smoothie
Serves 1

Ingredients
1.5 cup unsweetened vanilla almond milk

1 small baked and peeled yam or sweet potato (cooled)

1 serving vanilla protein (whey isolate or plant)

1 Tbsp. almond butter

2 Tbsp. raw walnuts

1 tsp. cinnamon
Instructions
Place all ingredients in a blender until creamy. This can be made the night before, but ingredients will naturally separate, so be ready to shake it up!

Tip: Primal Kitchen is my favorite brand of whey isolate protein and Amazing Grass is my favorite brand for plant protein!
---
I'm So Stuffed Fall Peppers
Serves 2
Ingredients:
2 organic green bell peppers with tops cut off and seeds removed (reserve tops)

3/4 cup chopped organic carrots

1/2 small sweet onion, chopped

1 cup frozen cauliflower rice*

1/2 pound grass-fed ground beef

1/4 shredded mozzarella cheese

pink salt to taste
*All local Grand Rapids grocery stores carry cauliflower rice in the frozen veggie aisle.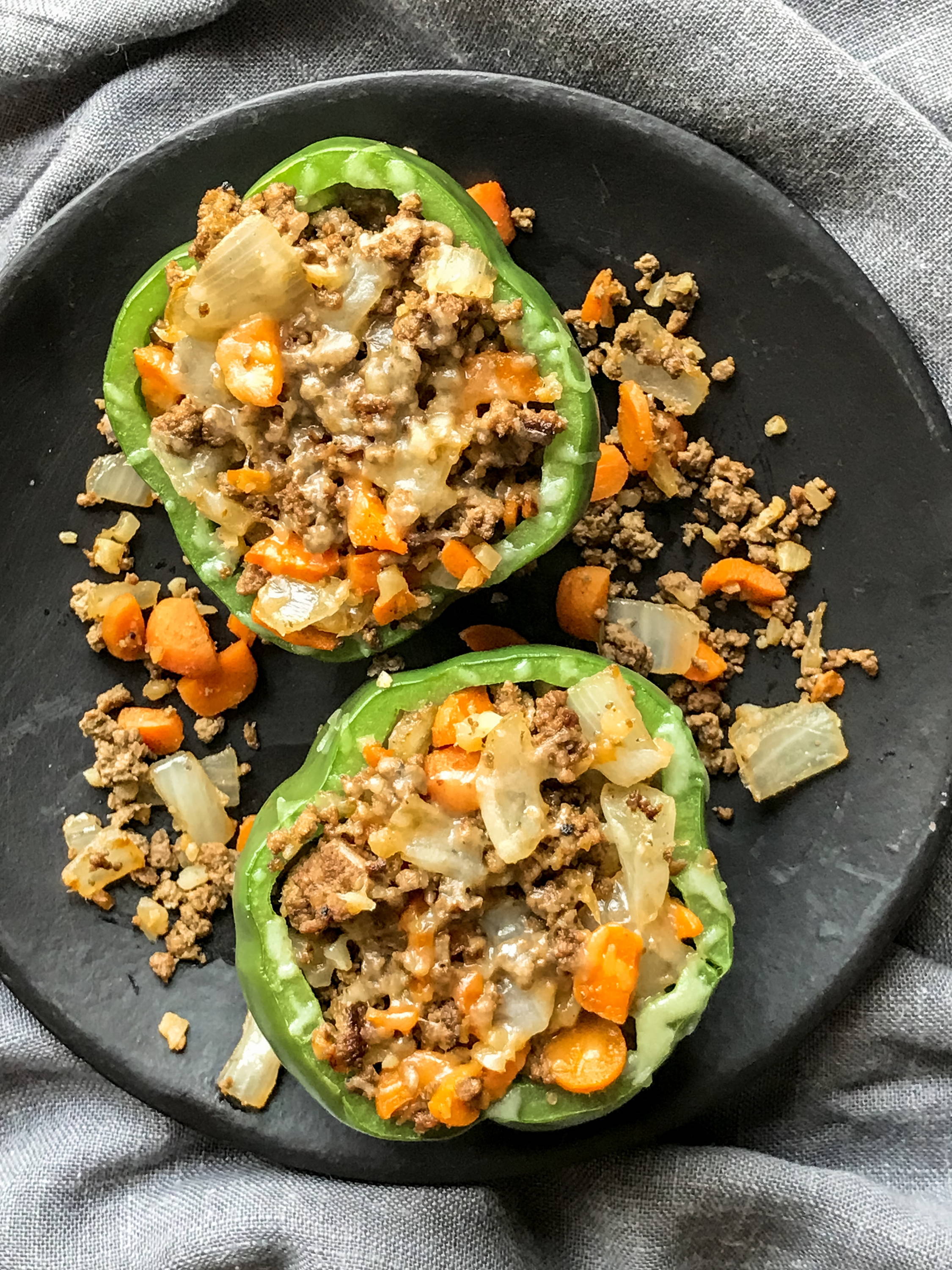 Instructions:
Preheat oven to 350 degrees and line a baking sheet with parchment paper.

Cook and stir ground beef in a skillet until beef is brown and juices run clear. Remove from skillet.

In same skillet, sauté onion and carrots until onions are translucent and carrots are softened.

Fill a medium-size pot halfway with water and bring to a boil

Place peppers in boiling water for approximately 5 minutes or until softened (but still a bright green color!).

Drain and rinse with cool water and then pat dry.

Cook cauliflower rice according to instructions.

Combine rice, onions, carrots, and beef together and sprinkle with pink salt.

Stuff peppers with above filling and top with cheese.

Bake in oven for 5 minutes.

Serve with any remaining leftover filling.
Tip: If you are making these the night before, they heat up easily in a microwave or taste great chilled. You can also reserve the cheese for when you plan to heat them up later.
---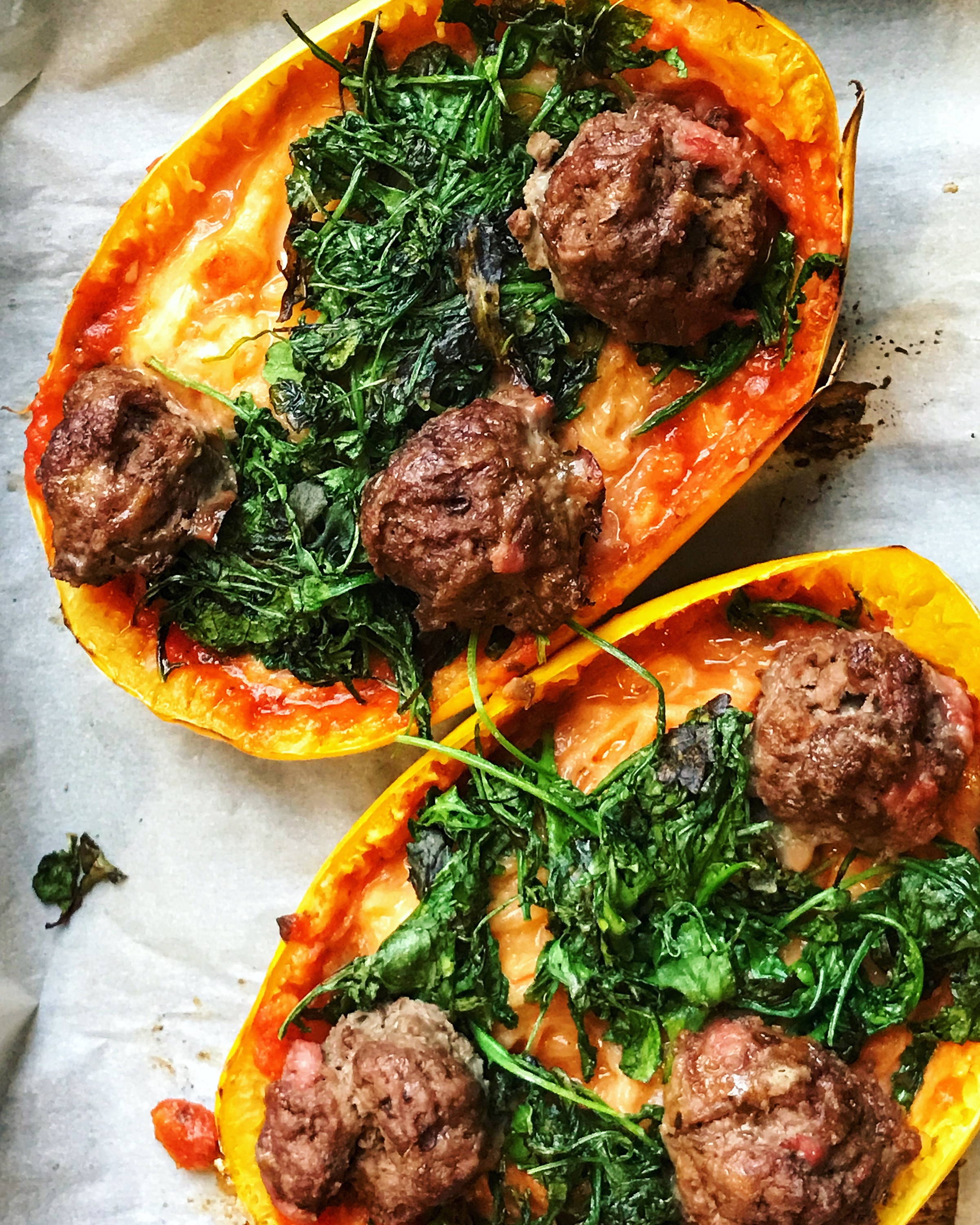 I'm "Rhetti" for Spaghetti and Meatballs
Serves 2
Ingredients
1 spaghetti squash

2 Tbsp. olive oil

pinch of pink salt

1 tsp. garlic powder

1 tsp. onion powder

1/2-pound grass-fed ground beef

2 Tbsp. Italian seasoning

1 cup marinara

2 Tbsp. basil chopped  

2 cups kale, sautéed
Instructions
Preheat oven to 400 degrees and line two cookie sheets or baking trays with parchment paper.

With a very sharp knife, cut off the squash in half, length-wise* scoop out the seeds.

Drizzle the insides of each squash half with 1 Tbsp. olive and sprinkle with salt, garlic powder, and onion powder.

Place the squash cut-side down on one of the prepared baking sheets.

Bake for 40 to 60 minutes, until the cut sides are easily pierced with a fork. Small squash will be done sooner than large ones!

Meanwhile, mix the ground beef with the spices and roll into 2-inch meatballs. Place evenly the other prepared baking sheet and bake for 20 minutes or until cooked through, but not dry.

Once the squash is done, use a fork to pull apart the inside of the squash – it will be stringy like spaghetti!  

Top with warmed marina sauce, meatballs, sautéed kale, and chopped basil.
Tip: If you are struggling cutting the squash in half, pierce it with a few holes and microwave it for 5 minutes so it is easier to cut.
---
Anything is "Pastable" Butternut Squash Macaroni & Cheeze
Serves 2
Ingredients
1 box chickpea elbow macaroni noodles (I love the brand Banza)
For the Butternut Squash Cheeze
1 small butternut squash, cubed and roasted

1/4 cup nutritional yeast

1.5 Tbsp. garlic powder

1.5 tsp. smoked paprika

1 tsp. turmeric

pink salt to taste

1/8-1/4 cup warm water

2 sprigs fresh rosemary, chopped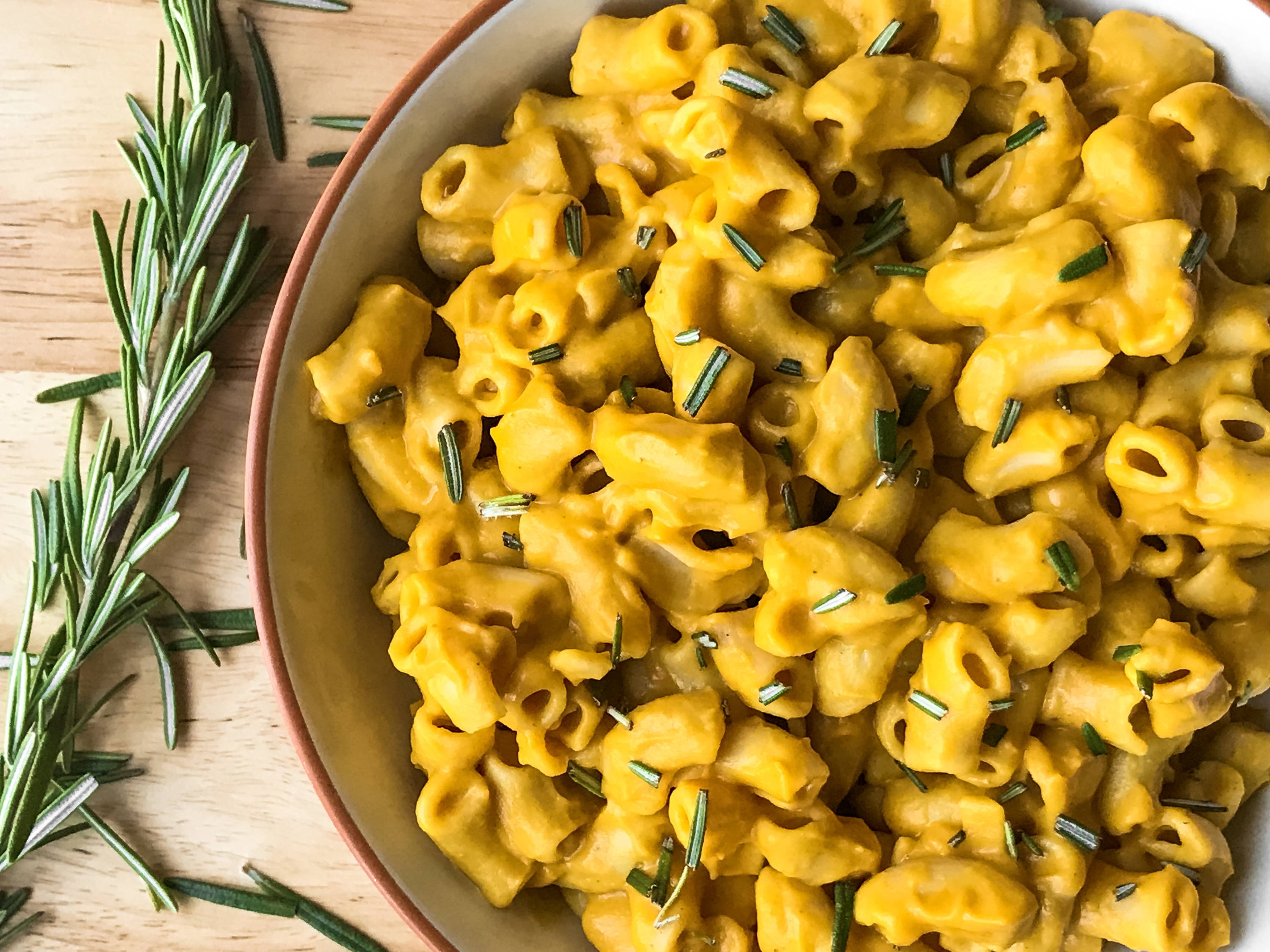 Instructions
Cook the pasta according to the box.

For the cheeze: Absent the rosemary, place all ingredients in a small blender and blend until creamy, adding more water if needed.

Toss the macaroni in the cheeze until well–coated and sprinkle with fresh rosemary.
---
Thank you Marisa for sharing these delicious recipes! Make sure to follow her at @Bring_Out_Your_Bliss 

Making any of these recipes?
Tag us at #GazelleSports & #BringOutYourBliss so we can see your deliciousness!