Kate Milz, Gazelle Sports Birmingham, shares her story and tips on her fourth marathon, ending in a personal record.
"That feeling at the end no matter how the race went, good or bad, makes it all worth it. And I can honestly say, as I know from experience with both end results, it really is all worth it."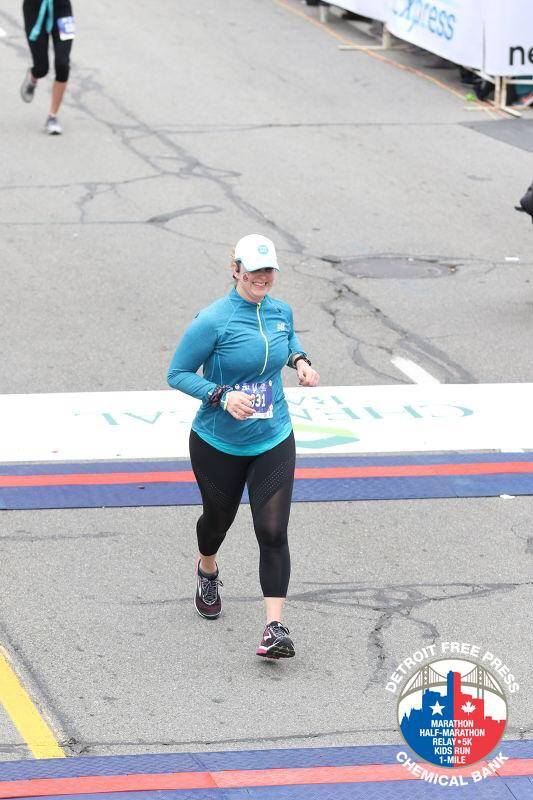 That's it. It's over. All my hard work, training and devotion all summer long ended in one brief morning. And it was A-M-A-Z-I-N-G! Now too many, 18 weeks of training, going to bed early, watching what I eat, aches/pains, cancelling plans because I have an early run might seem like a lot of work and a lot to give up for one morning, one race, but to those of us who run, especially those of us who have run a marathon, you understand.
The first question I ask myself after a race is "Could I have done anything different?", not "would I have done anything different?" Inevitably, there is always something that I will change for the next time I run a race that's part of the learning experience and part of growing as a runner. It is why I still sign up for training programs, because I don't know everything, because there are things I am still learning and need guidance on. But after each race I ask could I have possibly done anything different to effect the outcome and the answer is almost always a resounding "NO". I had the exact race I was meant to have on that day. And I scored the jackpot at the 2018 Detroit Free Press/Chemical Bank Marathon.
It really was the perfect summer, training-wise. I ran my first marathon back in 2013 and until this marathon it had been my best time. I had been frustrated by the elusive PR that seemed to be all around me for other runners. My goal this summer was to focus on my training, specifically my speed and my endurance on the back half of the marathon course. I was very type-A in my approach and followed my program to the letter. I very rarely missed a workout and like any good runner lamented when I did that it would throw everything off, but it didn't of course. And I finally started to see results. In early September I ran a 5k and PR'd, while proud and extremely happy, in my head I thought it was only a 5k and could be a fluke. Then two weeks later I ran a half marathon during some extreme heat and also PR'd. It was the first time that little kernel of excitement appeared that said you could do this, you can have your best marathon this year.
The week leading up to the marathon (the taper weeks) I was surprisingly void of any excitement or nerves. I was oddly detached. I didn't actually want to run or cared if I did. Going out for my taper runs became harder and harder. I had other more normal taper experiences, like being distracted, crabby, lazy, and phantom aches and pains, but I didn't really care if this major race I had trained for all summer actually came. I suddenly didn't feel like running it. I was done. I was so over running. This was a new feeling for me.
"I also had the best training group. They made me want to show up everyday. And not just put in an appearance, but show up and work hard. We supported each other and pushed each other to be better, especially when we had rough weeks or runs."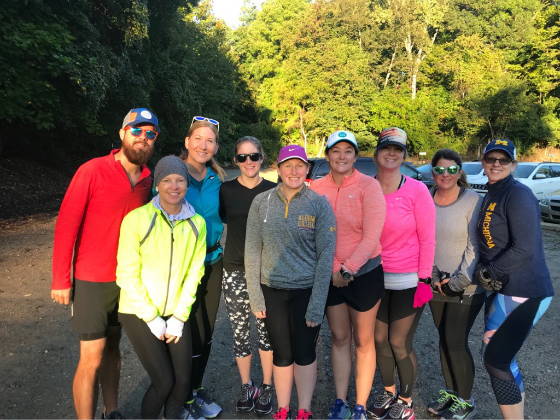 Race morning finally arrived (it seemed like it took forever) and I was excited
but mostly because I was running with friends and it was contagious. I was a little nervous, but mostly was due to the weather. It wasn't until we were in the corrals and off that I realized why I felt a "void". It wasn't so much that I didn't feel anything, but it's that I was so focused on what I needed to do everything else just sort of faded to the background. In my mind, I knew my plan and what had to happen to get a PR. And it was a litany over and over with each step I took. With every pounding footstep, 10:50/11, 10:50/11, 10:50/11 repeated in my head. To many that's not a fast pace, but it was PR pace for me.
The first half I felt great. My training had prepared me and then some for the Ambassador Bridge and Windsor Tunnel and I cruised through them, which was a first. But coming out of that tunnel it was cold and that had an effect. I don't think I ever got warm again. My hands were always cold and my leg muscles got tighter and tighter, some of it from the distance, but a lot from the cold. I never hit the proverbial "wall", but it did get harder and harder, but I just keep that litany going in my head and just kept finding a person in front of me to focus on and run towards. And then before I knew it I was off Belle Isle and on my way home. And that was the best feeling, because if you can make it off Belle Isle, you can finish the race and I knew if I could just keep this pace it was a guaranteed PR. So, I just put my head down and ran.
And before I knew it I had turned the last corner and there was the finish. I checked my watch (because who wants a finisher pic of them checking their watch) and knew I had made it. Between the roar of the crowd and my adrenaline, I put on a small burst of speed, even though I couldn't feel my legs(numb from the cold as they were) and finished as strong as I could. And then all those absent feelings from before the race came surging to the forefront and I started to cry and have a hard time breathing because I had just accomplished my goal: a PR, an 11 minute PR. I was ecstatic and overwhelmed!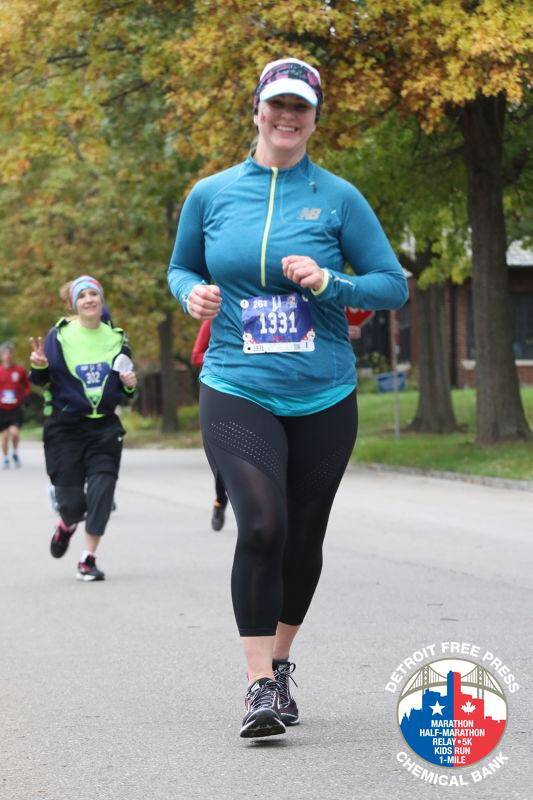 I didn't do it on my own. I had the best training plan. This is the first year since I started running back in 2011 that I have improved my times and I owe it to my training program, Lydiard. I truly believe its personalized nature and attention to detail got me to that PR. I also had the best training group. They made me want to show up everyday. And not just put in an appearance, but show up and work hard. We supported each other and pushed each other to be better, especially when we had rough weeks or runs. Thank you Gazelle Sports - Birmingham for bringing us together. And I couldn't have made it to the start line without the best running partners. Whether I actually ran the miles with you or you just gave me words of encouragement along the way, know that you made it all possible for me to make it to the finish line. My running community, My running family. My running sisters.
Trust your training plan, but make sure you find one that works for you. Find your tribe, it helps make those long runs and those tough runs better. Believe in yourself, because you put in the work and you can do it. Always follow the 15/20 degree rule when dressing for a run or race. And most importantly enjoy it. The process, the race, all of it. Otherwise what's the point.
I'm already planning my next one.