Raise your hand if you run hills & stairs . . . most times than not, no hands have been raised.

Running hills and/or stairs are a great exercise to increase your heartrate and build muscle. (Believe it or not!)

Adam Kemp Fitness states, "You are able to develop your muscle fibers more through hill running because you will lift your knees higher when you are running up hills." When you increase your muscle fibers, this in return will increase your power and speed; which will aid in the improvement of your pace. (*Jaw Drop* who doesn't want a faster pace?!)

Stairs are very similiar in a sense. "Hill running works the muscles which translate to running on flat ground nearly identically, while stairs places far more emphasis on the calf muscles and your quadriceps." - Adam Kemp Fitness

Not only do Hills & Stairs improve your pace and build muscle, they are also great in improving aerobic fitness.

If you choose to run stairs or run hills, performing these exercises will result in an increased heart rate and oxygen intake, which ultimately will improve your VO2 max, (Maximum amount of oxygen that your body can make use of during an intensive exercise). - Very Well Fit. The more you perform these exercises the easier you will be able to convert oxygen to energy faster and increase your speed and power when out on a run.

Whether you choose to run hills or stairs on your next training day, there really isn't a bad option to choose.
---
Hills & Stairs Revolution in Grand Rapids:
Trevor Wood, Merchandise Manager Assistant - Footwear / Website Product Manager at Gazelle Sports
We meet every Wednesday night at 6:30pm at Founders Brewing Co. in downtown Grand Rapids to run hills & stairs. We run every week through sunshine, rain, snow, or whatever weather our lovely state desires to bring on. After the run, join us inside Founders for food, drinks, and conversation. That's the basics.

Every week, it's roughly 5 miles of running, 147 stairs and many new friends. We build a community that people can trust will be there for a run every week. We wait for the last runner at the top of every hill to a jubilation of cheers and high fives. While running the stairs, everyone is free to do as few or as many as they would like.
 
We meet back at Founders for a well deserved beverage (whether that's beer or water) and forging relationships. These relationships spawn into meeting up for training runs, bike roads, swims, or just hanging out.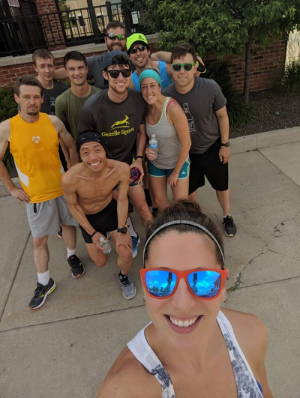 It all began in 2012 among 3-4 friends. It took a small hiatus. It was revived in the fall of 2013 and have met every week since then. This fall is the 5th anniversary of continual weekly runs!
"We have finally surpassed the 50 threshold and got 55 people out there running downtown GR some hills and stairs! It was a good night."
Movement is alive and well in downtown GR.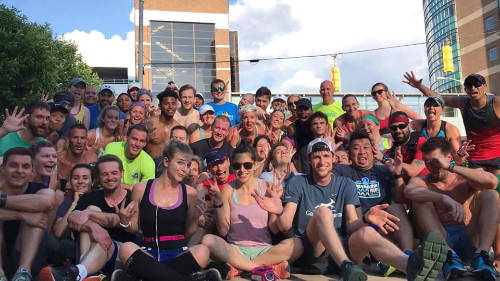 If you are ever in the Grand Rapids area, join their next Wednesday run!