We know we don't have to keep reminding you that summer looks a little different from what we had imagined this year. But, that doesn't mean we can't still make the most of what we have!

It is summertime in Michigan afterall and we may be biased, but it's the best state to live in this time of year! With access to multiple lakes, rivers, sand dunes and trails - there are options for everyone to keep moving, stay active and keep social distancing... while still taking in the breathtaking Pure Michigan views.
Which is why we launched our Great Lakes and Go! 5k summer virtual event, partnered with Michigan Awesome.
Our virtual event is for anybody and everybody. You can paddle, walk, bike, run - you choose how you want to Great Lakes and Go!

To encourage the whole family to join you on this fun Michigan Adventure - and because we can't resist a fun summer challenge... ;) We put together a printable coloring page of the 5 Great Lakes (thanks, Michigan Awesome for this design) and each time you complete a challenge - you color in a section of the coloring page shown below!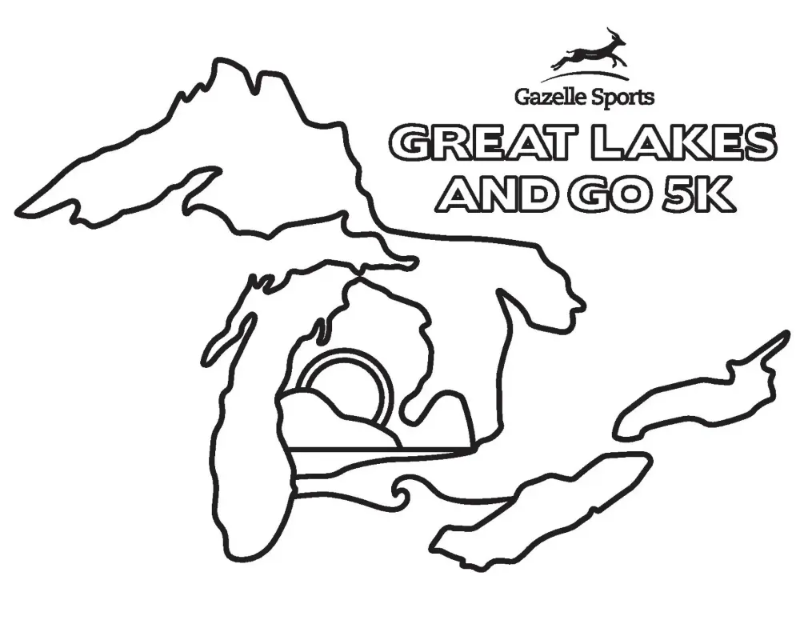 Instructions/Details below:
Each time you complete a challenge from the list below, color in the appropriate section of the coloring page. Tag us on social media at #greatlakesandgo to share with us your progress along the way!
Lake Erie, the shallowest of the great lakes, is 210 ft deep at its deepest point. Log 21 minutes of movement and color in Lake Erie.


Lake Superior is the largest great lake, and the world's largest freshwater lake by surface area. Move your body 31.7 minutes to color in Lake Superior - 31,700 miles of surface area!


Lake Michigan is the only great lake surrounded entirely by the United States. It is shared with Wisconsin, Illinois, and Indiana. Find three items entirely in your home to add weight to your workout and color in Lake Michigan once complete.


Lake Ontario is named after its Canadian border to the North, West, and Southwest. Get your groove on by working out to a Canadian musician and color in Lake Ontario


Swim, splash, sup in a Michigan body of water and color in the last of the great lakes- Lake Huron.


Spot a robin, the state bird of Michigan, on a work out, and color in the spot above the sun that includes the mitten shape.


A favorite childhood pastime for many a Michigander is skipping stones. Especially after realizing it is not the prized Michigan petoskey state stone. Hop, Skip, jump on over to the Gazelle Sports website and check out our Let's Run this Summer training program and check out if our training is for you and color in the water around the ground below the sun.


Share a sweaty selfie on the Great Lakes and Go Facebook event page with a sunrise or sunset and color in the sun.


Run, ride, rollerblade a pine tree-lined trail for 30 minutes of movement and fill in the ring around the sun.


Backyard movement Fun-Quarenteam family or friends three legged race across the yard, potato sack race, dodgeball, etc. for 30 minutes and color in the ground beneath the sun.

READY TO BEGIN?
Lets see how many coloring sections you can complete before our event starts on August 25th!

Tag us at #greatlakesandgo on social media!