"I think this was a great experience for our family in that we all had to do something hard. "
---
We are all about moving and motivating others to move. So when we heard one of our Gazelle Sports Activators, Danelle Scott, had signed up her whole family (two sons, husband and herself) for the Bayshore Half Marathon - we knew it was a story we wanted to share.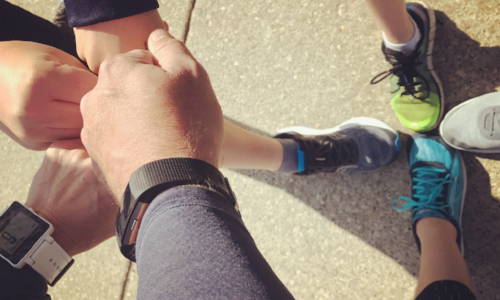 Last October my family traveled with me to Detroit to watch me finish the Detroit marathon. Shortly after, they asked me if they could train for and run a half marathon with me. I was shocked and admittedly, somewhat uneasy about their level of dedication to such a commitment, but decided to go for it. We chose Bayshore, registered on December 1st, booked our hotel and never looked back. We started our training in mid-January, often heading to the Spartan YMCA or taking turns on our treadmill at home. Despite a cold spring, we persevered and suddenly race week was upon us.
We arrived in Traverse City on Friday evening and after a hearty meal at Slabtown burgers proceeded directly to packet pickup. The guys were pretty excited and were definitely feeding off of the energy there. They all picked out a special item to commemorate their achievement, Jamie my husband and Chase, my 11-year-old both got a glass that said 13.1 and Aidan, my 14-year-old chose a bumper sticker. Then we headed back to Great Wolf Lodge for a few water slides before heading to bed at 9 pm, even though it was still light out!  
Our alarms went off at 4:30 am and we quickly dressed and body glided in order to meet our shuttle bus by 5:05 am. Off to the high school for another shuttle to the starting area. When we got there, we saw some friends that included our neighbors, Jason and Danielle Dyhouse. Danielle is one of my regular running partners, especially on Fridays at 5:15 am. She was going to run with us, as she had been nursing an injury. Since our plan was to run intervals of run 8 minutes and walk a minute, Jason decided to run solo. His goal was to run the whole time without stopping.  
We lined up and got going. We soon found that the hill at the beginning was every bit as tough as we had heard and made us especially grateful to have done some training runs on Baldwin hill in Hudsonville where we live. As soon as the timer dinged to start the first walking interval, Jason kept running and Chase asked if he could keep running with Mr. Jason. Thanks to playing soccer three days a week, I knew that he could go faster than his dad and brother and decided to let him go.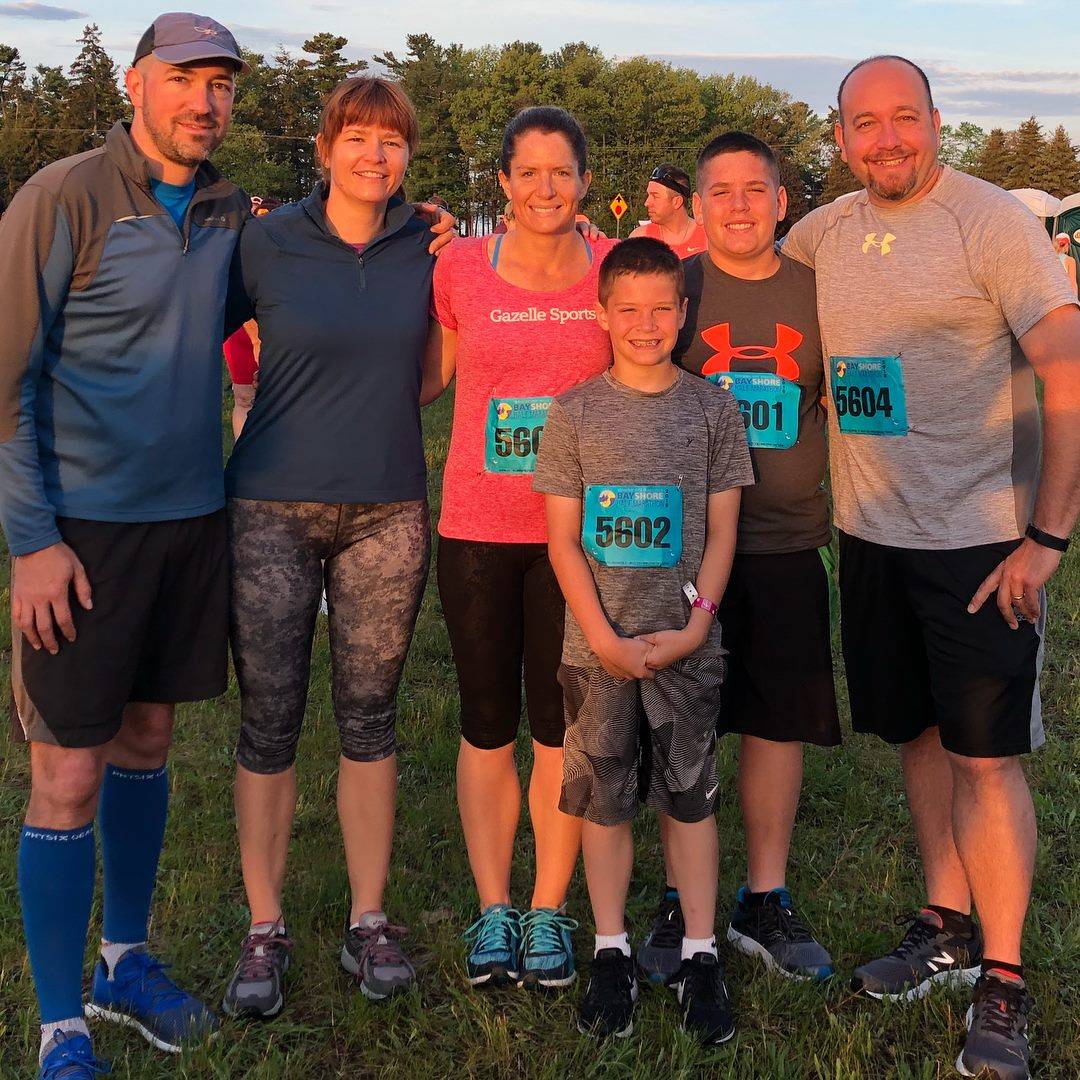 As they faded into the distance, I spent the next five miles hoping that he was ok. It was hot out there and he didn't have any GU with him, since his brother was carrying it in his pockets. Thank goodness for the many water, oranges, Gatorade and especially the skittles and m & m's stations!  
During miles 2 & 3, Danielle and I got separated from Aidan and Jamie. I also stopped a number of times to use the bathroom but kept giving up jumping back onto the route because of long lines. Finally, at mile five, I spotted Jamie and Aidan while again waiting for the bathroom and told Danielle to join them as I would catch up to them. Luckily, the line was short this time and I was able to find them pretty quickly. I was happy to see that they were ok despite the heat and we stuck together for another mile and a half.
At that point, I asked Jamie if he minded if I tried to find Chase. My mama bear tendencies wanted to know that my baby was doing ok. Jamie said yes and off I went. I went from running 11: 30-minute miles with the interval group to 8: 30-minute miles to try and catch up. As each mile ticked by I started to get nervous that I was never going to catch him or that he was at an aid station because he went too fast or had to use the bathroom and got separated from Jason, etc, etc... and then at mile 12, I saw them!
I used every bit of energy I had left to speed up and catch up to them. As soon as I did, I quickly realized why Jason had the best experience out of all of us....everyone cheers for the little kid running a half marathon and he was the guy running with him! All of my worries were unfounded. Jason and Chase had a great time and even stopped to take a selfie along the way. Chase confided in Jason that he knew early on that he was going to run the whole time and never stop to walk. I am so proud of him and his efforts and I'm also glad that I got to cross the finish line with him.  
After grabbing our ice cream and medals, we quickly walked back to a shaded area to try and catch Jamie and Aidan come through. After a few more minutes they showed up, looking pretty hot and tired but successful!  
Aidan had broken his foot in mid-March playing tennis and had to take two weeks off of training. I am so impressed with the way that he never let that adversity get in the way of his accomplishing something difficult. And Jamie, he's a landscaper, so the last six weeks have been full of 60 hour work weeks. Fitting in training runs during the week (sometimes at 5 am) has been a big commitment for him. He followed through and was overwhelmed with emotion at the finish!
I think this was a great experience for our family in that we all had to do something hard. For them, it was the distance running and the time spent training. For me as the seasoned runner, it was enforcing the training and running intervals at their pace instead of constantly competing with myself. Juggling the training, with work, soccer, tennis, and baseball umping was a challenge but one that we are all glad that we did. Chase is now asking for a marathon...and I'm still hoping for a nap!  
Thank you, Gazelle Sports for letting us share our story and yes, for helping us find the right gear for the road. As a family, we went through 7 pairs of shoes training for the race, as well as socks and nutrition. More importantly, the kindness, advice and time spent helping all of us even when we were returning something that didn't work out was much appreciated and encouraged them to stick with the process.
We aren't sure if we'll run another half marathon but I do know that we plan to Keep Moving!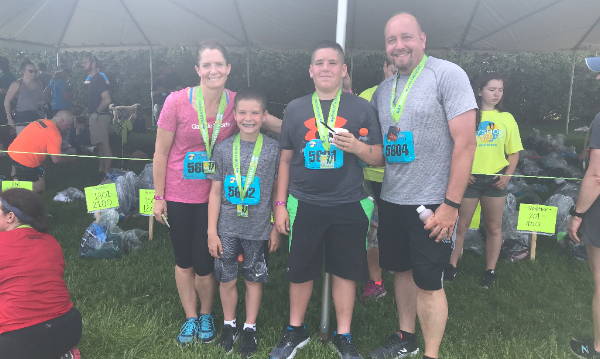 ---