"As my son prepared to embark on his journey, little did he know he had the fight of his life ahead of him."
---
After graduating in June of 2015, my son had a dream to be a United States Marine. He kept this dream to himself, but I noticed an effort on his part to occasionally eat healthier and sometimes exercise.
In January of 2016, I learned my son had enlisted (back in September 2015) in the delayed entry program with the United States Marines and was looking to shed a few pounds and build some muscle.
I decided I wasn't setting the best example for him and my other two younger children, so I joined WW on January 13, 2016. As my son prepared to embark on his journey, little did he know he had the fight of his life ahead of him.
The first recruiter he spoke with told him he'd never be a Marine. That made him fight and push even harder. Once he visited a different recruiting office and found a recruiter who believed in him, he had sight of his dream, but he still had a fight to fight. He was medically denied due to a penicillin allergy.
The fighting continued. Then, medically disqualified due to previous medication. The fight continued! FINALLY, he was accepted!
As I watched my son fight, I decided to fight for me. For my health. For my mental well-being. For a healthy life. After all, if he could endure all he had, I could sacrifice and fight for myself.
I began to exercise daily I even tried running. It started small....I DIDN'T KNOW IF I COULD RUN ONE MINUTE! I made it, but decided I wasn't cut out for running. Long story short, I've run three 5Ks and there are more in the future, too.
On January 23, 2017, a year after our journey began, my son left for boot camp. It was bittersweet, and the worrying began! The stress eating that I once turned to, infringed on my life daily. My fight was on. On April 21st, I watched my Marine graduate. The following day, his 20th birthday, he flew ️home with us for 10 days of leave.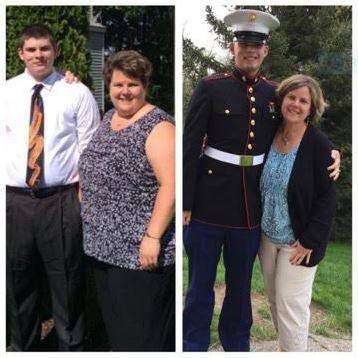 The leave ended too soon, and his next training phase began. Although I am again saddened by his departure, I cannot help but feel a sense of pride and honor that he is my son!
The picture on the left is his HS graduation (we're not even at our heaviest) in June of 2015. The right was during his time at home on leave.️Together we have lost 186 pounds!!!!
It was not always easy! I pushed because I knew my son was pushing himself....pushing to that end goal of becoming a Marine. I pushed because I wanted it. I pushed because I knew I could do it. I pushed (and continue) because it feels good to be healthy.
I am not at goal...not really even close, but today I celebrated losing 100 pounds. LOOK AT US!!!! DON'T WE LOOK AMAZING??!!!!
Do this! You can! Drive yourself! Push yourself! Love yourself! Be at peace with yourself! Fight your own fight! You're worth it!
A huge thank you to my family, friends, and colleagues for their support on this journey.
In closing, please, in this world of chaos and crisis, pray for our military men and women. Pray for their safety. Pray for world peace.
Two and a half years ago I've ventured on a journey; the journey I should have taken years ago. I joined weight watchers, and changed my life! As I celebrate my 47th birthday today, I cannot imagine life any other way. I've done new things, and done old things in new ways. Don't ever think it's too late to change! As of last week, I've lost 135 pounds, and I'm enjoying life again. Maybe you don't have weight to lose, but you're not living life. Today you can start!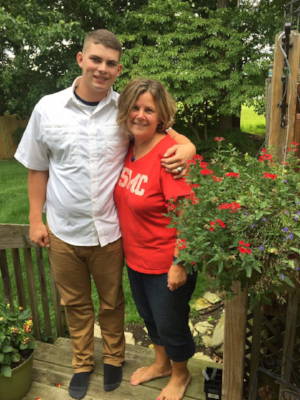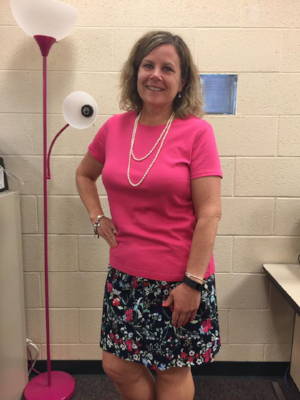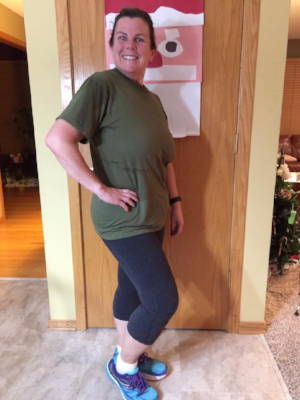 FOLLOW UP: About 6-8 weeks ago I stopped in to see Louis and thank him. When I met him and got fitted for my first 'running' shoes, he called me a runner. He believed in me when I didn't believe in myself! I now have lots of goals....in 2017, I committed to running/walking 2017 miles. Exceeded it! This year, 2018, and am on track to surpass it again.
Additionally, I have committed to running a 5K every month; during my birthday month, May, I committed to doing one each week. I am also training for my first 10K. Again, if it weren't for Louis initially believing in me, I'm not sure I'd be in the same place! I am currently down 135 pounds!!!!
---