The Gazelle Sports staff throughout all 5 store locations is made up of runners, walkers, joggers, cyclists, crossfit, weightlighters, yogis - you name it, we do it. But the only way we can continue to stay active is if we properly fuel before any big activity & eat afterwards to repair our muscles.
It can be a guessing game on what fuel works for you before & after a workout - which is why we asked our staff here at Gazelle Sports what some of their favorite recipes are. Find them all below & let us know what you love, too!
"If you don't fuel your body before a workout, you wont have energy to have maximum performance." -​Sweat​​​​​​
Energy Balls:
"This is mine HANDS DOWN! We had a registered dietician come in and do a presentation for us for the past two seasons of Run Camp and she shared it with us. We've dubbed them our Power Balls, lol. They are amazing."

Angela Carron - Run Camp Coordinator Northville
Eating Bird Food: Chocolate Peanut Butter Cookie Dough Balls
Photo from Eating Bird Food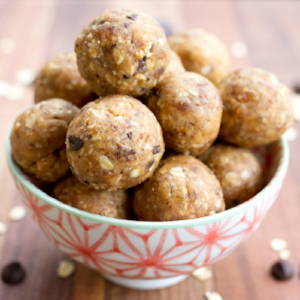 Peanut Butter Toast:
"Typically I eat a Clif Bar or Peanut Butter Toast. That normally ties me over until my Gu, 45 minutes in. I eat just enough that this is something in there before I am out there too long."
Brittany Wortley - Customer Service
Enery Bars:
- 1 cup peanut butter
- 2/3 cup honey
-½ cup tahini
-2 cups whole oats
- 1 cup combination unsweetened coconut, chia
seeds, flax seeds
- 1 cup chocolate chips

1. Heat peanut butter, honey and tahini in a pan
until smooth.
2. Remove from heat and add dry ingredients
except chocolate chips.
3. Add chocolate once mixture has cooled.
4. Evenly distribute in a foil lined 8x8 pan and
refrigerate.
5. Once cooled, cut into bite size squares and
enjoy!

Dottie Sullivan - Holland Staff Member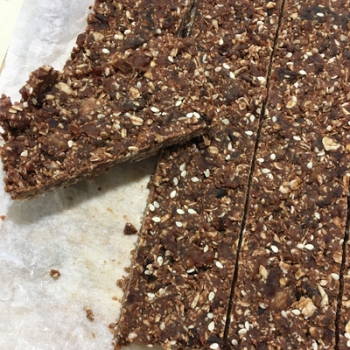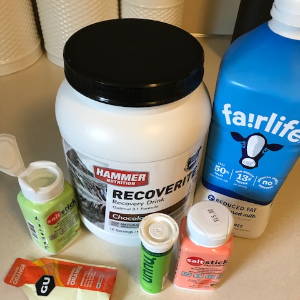 Salt Sticks:
I use the salt sticks and nuun before, during and after workouts. Whatever my body is telling me I need. I can tell because I will crave salt and electrolytes when I need them.
Gu for me is strictly a "during" activity calorie boost.
The Hammer Recoverite is a post workout every time. I choose to mix it with Fairlife milk because it is protein enhanced and has a lactase enzyme. It is the best recovery mix that I have ever had."

AJ Herbel - Assistant Store Manager Grand Rapids  
"This post-workout meal is important for helping your body recover and repair. Eating a post-workout meal will help reduce muscle fatigue and soreness." - Lift Learn Grow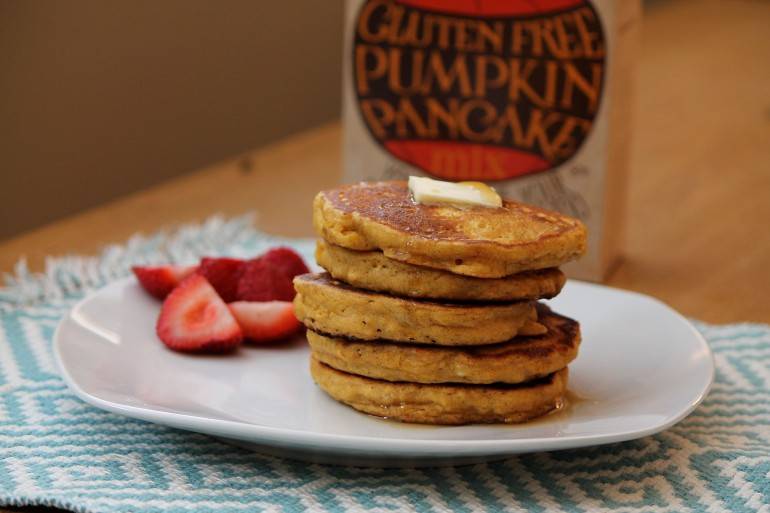 Pancake Lovin':
"During the fall I love the Trader Joe's pumpkin flavored pancake mix and usually put chocolate chips in to honor my sweet tooth! But, when on a time crunch, I love Recoverite from Hammer as my post run drink."

Alyssa Neumen - Assistant Store Manager Grand Rapids
Open Face Stacker:
Serving size: You can trust your body to tell you the amount that you need.
Here's one of my fav and go-to meals (breakfast, lunch, or dinner!). This combination of flavors can easily be adapted, so "You [can] Do You."
Prepare:
slice(s) of your favorite bread, toasted
mashed avocado
fresh spinach, sauteed in coconut oil, butter, or whatever you prefer
eggs, cooked your way (or substitute scrambled firm tofu)
salt (I love Himalayan pink salt)
pepper
turmeric powder (Have you ever tried turmeric on eggs? So good!)
Sprouts (optional)
Fresh parsley and cilantro (optional)

Other ideas to add:
Hot sauce, cream cheese or Kite Hill nondairy spread, your favorite cheese or Chao nondairy slices, bacon, BBQ sauce, hummus....the possibilities are endless! In this picture, I added a Tofu Ranch Dip.*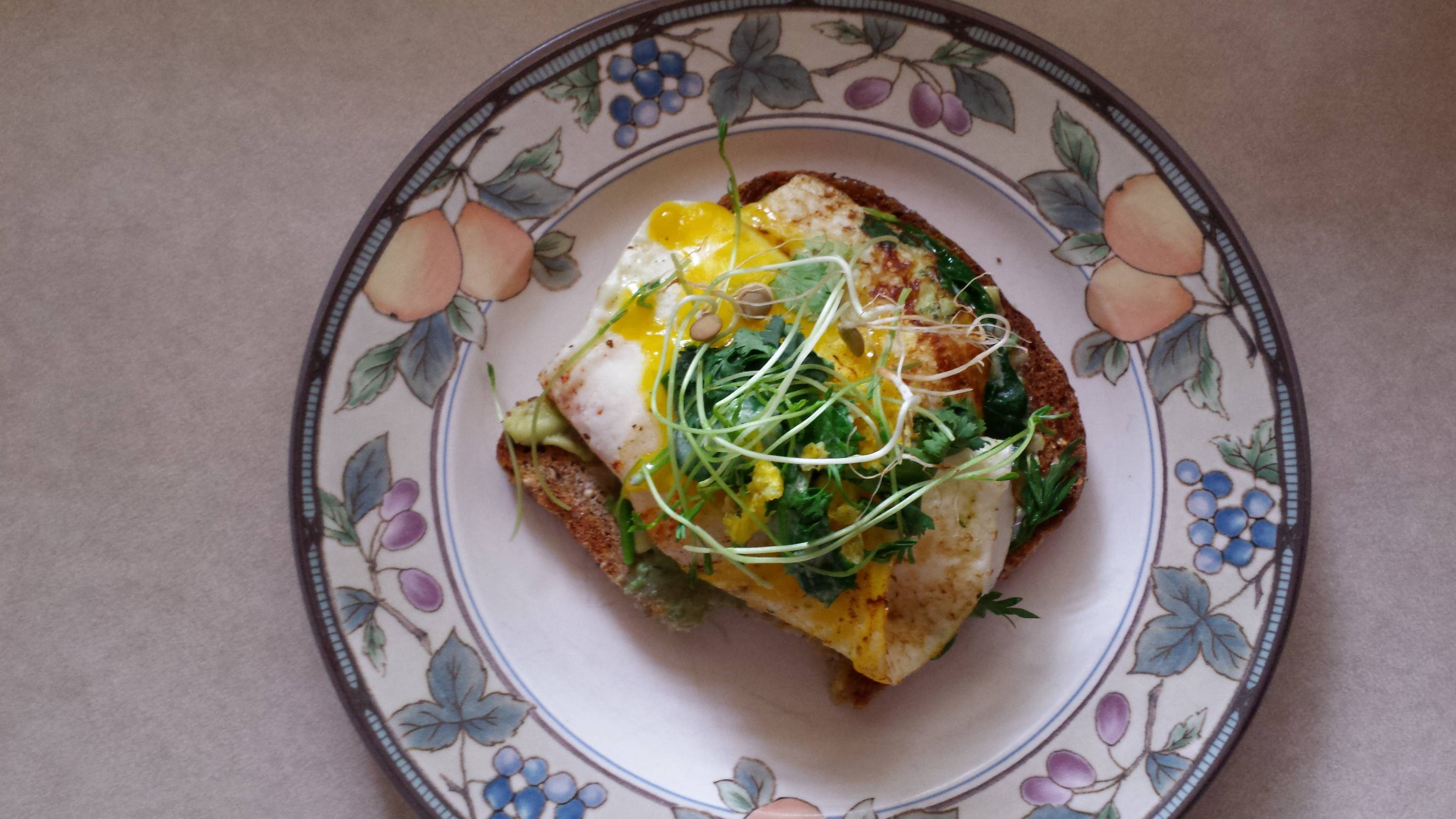 Assemble: Spread the mashed avocado on the toast. Add the spinach on top of the avocado, followed by the eggs on top of the spinach. Add any other adornments that you'd like. Sprinkle with salt, pepper and turmeric, if desired, or add the salt, pepper, and turmeric to the eggs before stacking everything together. Enjoy!

*Cheryl's Tofu Ranch Dip/Spread: Blend soft tofu in a high speed blender with splash lemon or lime juice, sprinkle of salt, and lots of fresh herbs (I love dill, cilantro, and parsley, or a combo of any of these). Spread on sandwiches or use as a dip.
Recipe from Cheryl Still - Gazelle Sports Grand Rapids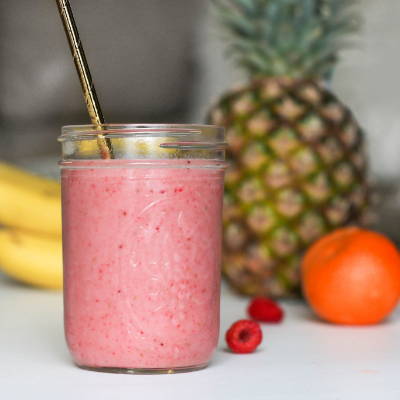 Spinach Berry Smoothie:
Smoothies come & go for me. Sometimes I love & sometimes I need something warm. However, when I am on a smoothie kick, this is what I love:
-2 handfuls of spinach
-1 1/2 bananas
-2 cups of mixed berries
-2 tablespoons of nut butter
-For extra protein, add Flaxseeds or a scoop of protein powder
-2 cups almond milk

Additonal Add Ons - Dates, chia seeds or yogurt.
Top with Granola

Serves TWO: save one for the next day!

Lisa Bernath - Social Media Coordinator
Recoverite :
I love the Recoverite. After running Ragnar last year, this drink kept me going.

- Jeff Brown, Staff Member in Grand Rapids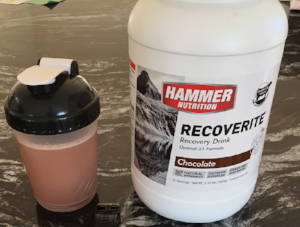 At Gazelle Sports, we believe in staying active and being properfully fueled. Check out our wide selection of Nutrition options.