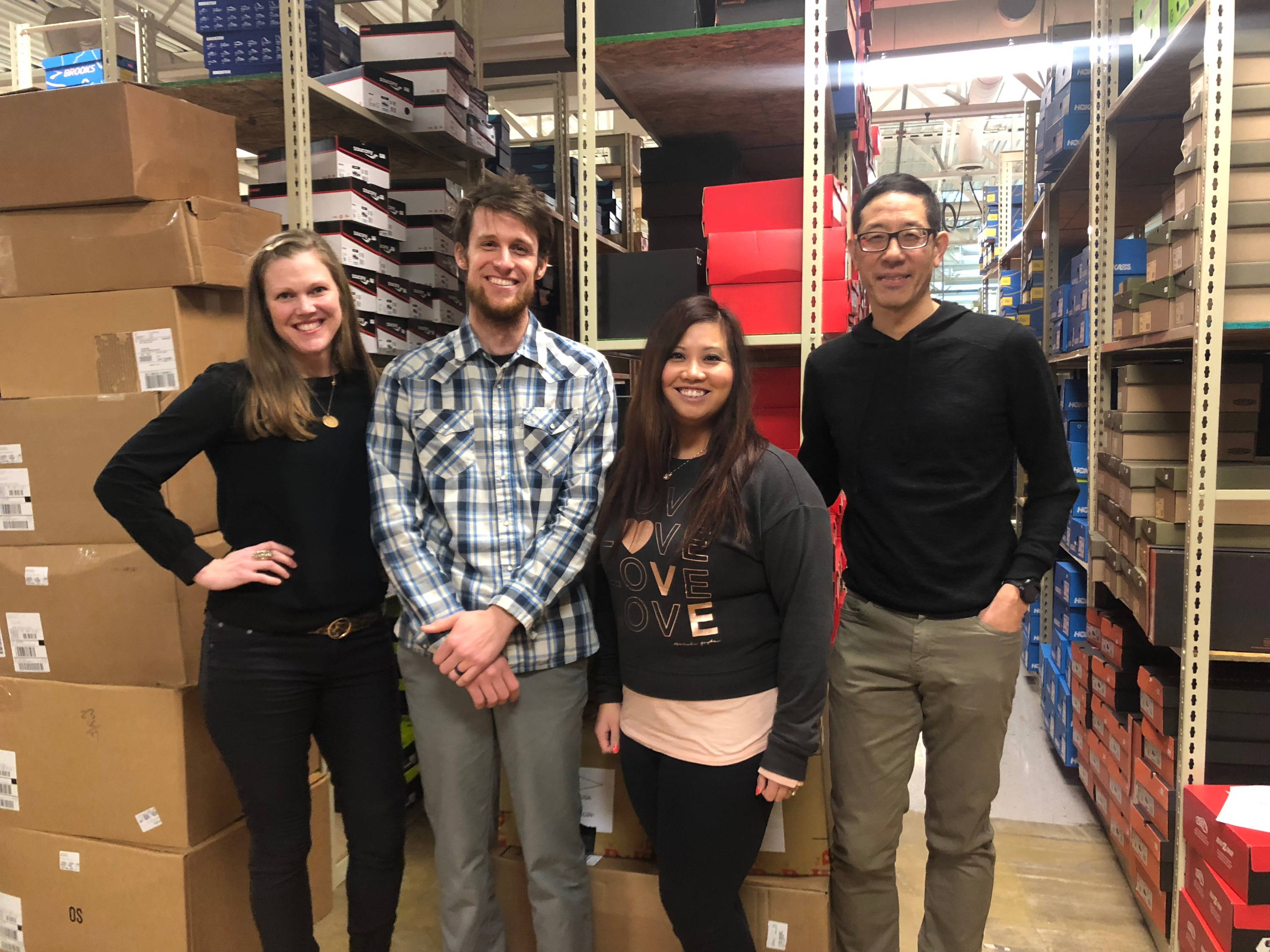 Meet: The Merchandise Manager Team

From left to right: Angie, Merchandise Manager. Trevor, Merchandise Manager Assistant.
Elle, Merchandise Manager Assistant. Ken, Director of Merchandise


Merchandise Manager Team is made up of four incredible, hard working individuals who wear many hats. The people behind this team are the ones who are researching and bringing in new brands, providing the best recovery/nutrition products that will best suit our customers, create relationships with our vendors that are more than just "business," putting together styles for photoshoots and emails, and continuing to bring in a variety of shoes brands that will fit our customers' feet just right.

It's never a slow day with this team, but Gazelle Sports and the variety of options we have in-store and online wouldn't be what it is without them.  
In a short overview, describe your role at Gazelle Sports:

I recently became the Merchandise Manager - Apparel Buyer at Gazelle Sports. The role comes with many exciting and challenging responsibilities. Just a glimpse of what my day could look like.... Re-merchandising a selling floor, meeting with vendors, styling a photo shoot, ordering next season's collection... or helping to plan our Gazelle Girl Expotique race collection. - Angie
I help oversee footwear, electronics, socks, insoles, website, and offsite sales. Just a few things! - Trevor

I manage equipment, nutrition, and apparel accessories, and I also help lead apparel and branded gear. My role consists of managing inventory, which is a very broad way to say that I review reports, analyze data, markdown and transfer product, help coordinate expos, ensure inventory integrity, support marketing, and of course, purchase product. - Elle

What is one of your favorite parts about this role?

I love seeing the new collections from our vendors! We buy our assortment a year in advance so it is fun to see where the trends are going. - Angie
I like the changing landscape, problem solving, and being able to lead conversations about the product assortments. - Trevor

I love putting together collections! It's really satisfying to see the buy come together when it's displayed out on the floor. - Elle
What is what one thing you do to unwind at the end of the day?

My favorite way to unwind is coming home to my family. In the summer I love to sit outside and read with my daughters while drinking a glass of wine. - Angie
Drink beer...just kidding. I enjoy going for runs at my own pace, and getting to lead a running group every week. Reading books is fun as well. - Trevor

It's not specifically tied to the end of the day, but I love how I feel after a run. I typically run in the morning, and as tough as it is to drag myself out of bed that early, I enjoy the free therapy. - Elle
What is one brand you were/are most excited about bringing to Gazelle Sports?

We have an amazing assortment of running, training, studio and lifestyle brands. I love what New Balance is doing for women right now. The collection is beautiful and feminine while maintaining functionality for an active lifestyle. - Angie
I did not bring the brand in, but Aftershokz. It's been fun expanding their assortments and seeing the growth potential. And they are still growing and expanding themselves, so helping them lead initiatives down the pipeline. - Trevor
I loved being able to introduce Goodr into our stores, and seeing how much it has grown has been amazing! Plus, it's been really awesome to see how much staff love the product. - Elle
What's one thing on your bucket list you have yet to cross off?

I don't have a bucket list but I do love to explore with my family. We love to visit new places and find new adventures. My goal is to fit in as many family fun days as possible! - Angie
 I think it would be fun to travel to the Pacific ocean or Europe. That or somehow manage to qualify for Boston. Maybe when I'm older :) - Trevor

Visit every continent. - Elle
There ya have it. Did anything surprise you about this role? These four work hard and make Gazelle Sports the brand it is today!