Angela Carron, Run Camp Coordinator at Gazelle Sports Northville
My good friend and 5am running buddy Brittany and I toed the line of her first marathon in Detroit the fall of 2014.

She wanted to finish in at least 4:30, but I knew she was stronger than that. I ran every step with her and let her keep the pace and she finished in 4:00:32. It was that day after experiencing 26.2 miles with Brittany that I knew she had it in her to qualify for Boston.

I wrote her a training plan for that winter and she didn't miss a single workout. We toed the line together in Traverse City with the intention of nabbing that BQ for her. She was nervous, I was excited and confident in her. As we approached the 17 mile mark Brittany's pace started to waiver.

I told her "as long as you can keep it here we'll still come in on BQ time." She said, "no way, I need sub 3:35!" I said, "What? It's sub 3:40?!" This is when my sweet friend reminded me that I was almost 15 years her senior and the BQ time for the youngins' was in fact sub 3:35.

I immediately won the WORST PACER OF THE YEAR AWARD, but wasn't giving up on Brittany.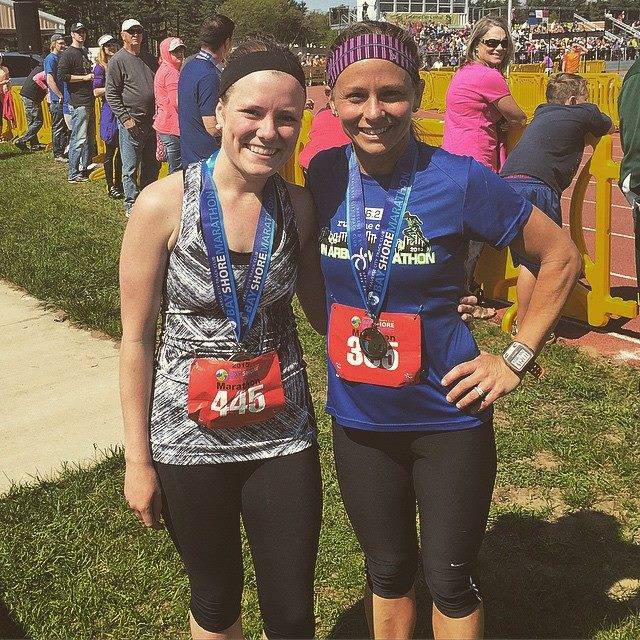 I calculated the pace we needed to make it in sub 3:35 and I pulled out all the stops.

I made jokes, I told stories, I recited Eminem lyrics to her and sang Eye of the Tiger. I coddled her and yelled at her. I ran in front of her pulling her and behind her pushing her when she needed it most. I got her to mile 24 and we were sitting pretty on time, set to come in just under 3:35.

I gave her one last pep talk about how strong she was and that if it was easy everyone would do it. I told her to draw strength from her core and arms and that the quicker she ran, the quicker it was over. She started to cry a little bit and changed gears.

She kicked butt those last two miles. I've never smiled so much in my life I was so proud of my friend.

We finished in 3:32. Amazingly enough she actually gives me credit for that run and says she would have never done it without me. Those words from a friend feel better than any PR I've ever run.